DORINGER Model D300
12″ Sawblade Standard Machine
Powerful, Most Reliable, and Versatile Machine
For Cutting . . .
Steel
Stainless Steel
Aluminum
Description
Model D300 Standard Equipment
Choice of Motors: 3 Phase, 2 Speed, 3.6 H.P. or 1 Phase, 110/220 Volt 2.5 H.P.
Robust Gear Box
Double Hinged Safety Guards
Mitering Table (90′ – 45′)
Recirculating Coolant System (Reservoir In Base)
Main Switch With Overload Protection
Operators Manual, 12″ Sawblade, Allen Wrenches, & Coolant Included
Model D300 Optional Equipment
Cabinet Base Stand With Storage Space And Tool Rack
Air Vice Unit In Lieu Of Standard Mechanical Vice
Additional Clamping Arm Attached To The Air Vice Unit
Additional Clamping Arm Attached To Standard Mechanical Vice
Length Stop 0-40″
Slanted Table With Down-Chute For High Production Cutting
Material Indeed & Out feed Conveyors
Special Jaws For Cutting Square Tubing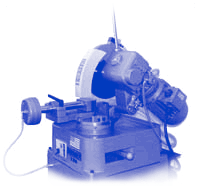 Model D300 Technical Specifications
Cutting Range (300 MM Blade)

Round Tubing:
90 - 3.75"
45 - 3.5"
Square Tubing:
90 - 3.3"
45 - 3"
Rectangular:
90 - 2.45"
45 - 2" X 4"
Solid Unit:
2.5" MAX
Max. Vice Opening
5.7"
Add 1/4" Capacity With Option 9 (See Price List)
Weight and Packing

Weight:
330 LBS (Unpacked)
348 LBS (Packed)
Weight W/ Stand:
440 LBS (Unpacked)
465 LBS (Packed)
Standard Color:
Hammertone Green
Packing Type:
Pallet & Crate
Model D300 Warranty
All products are warranted to conform to the manufacturer's general standards of quality of materials and workmanship. Any parts not meeting with standards will be supplied at no cost to the purchases up to 12 months after delivery date and will be fitted on return of the machine to the company's factory. Parts deemed by the manufacturer to have failed through normal wear and tear, misuse or abuse are not covered by this warranty, even if failure occurs during the 12 month warranty period. Sawblades and other perishable tooling are not covered by warranty.